Creative & Server Director
Owner
✤ SKYBLOCK - SEASON ONE ✤
$1,800+ IS TOP PAYOUT!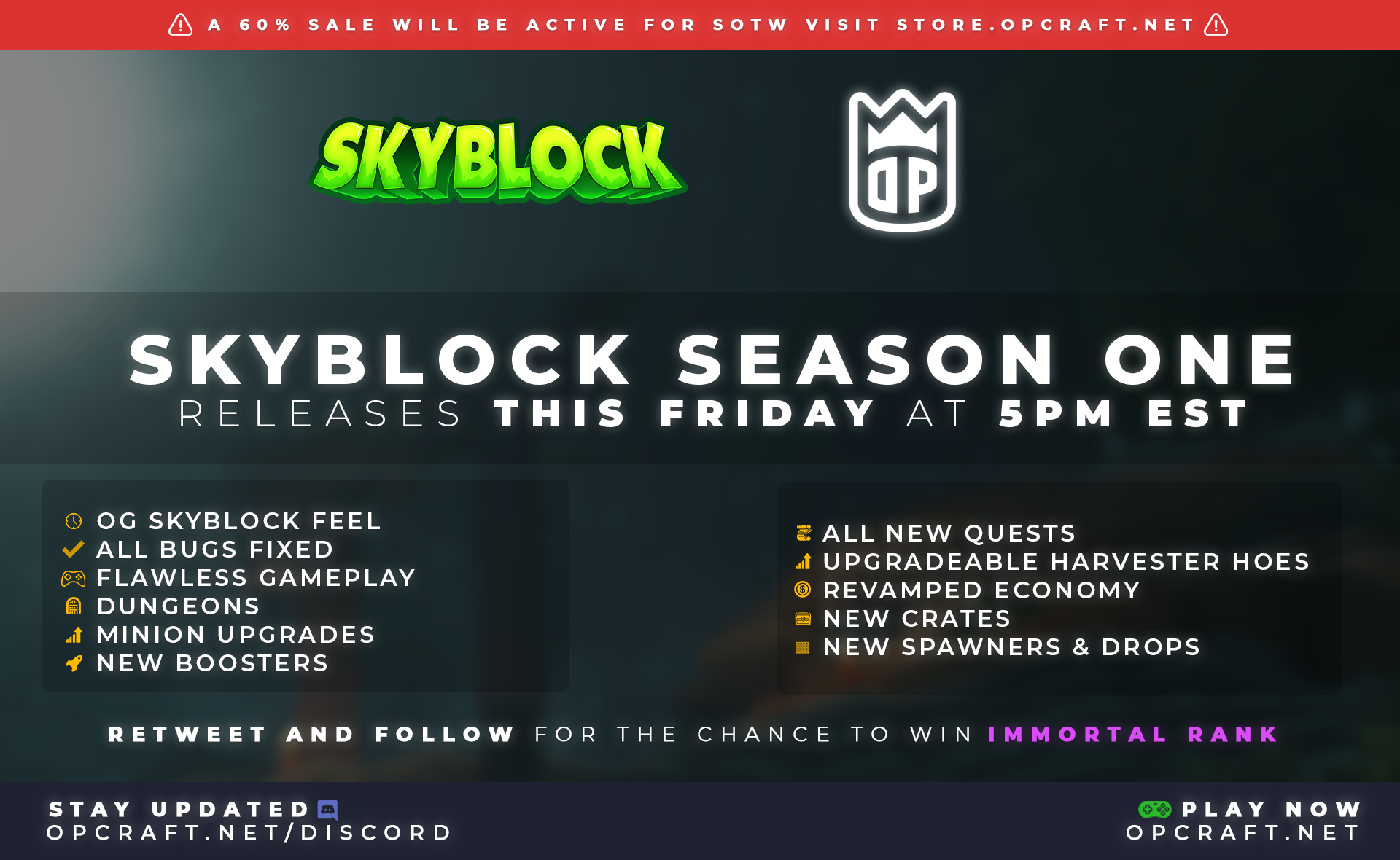 ​
✤ SKYBLOCK FANTASY
RELEASE INFORMATION

Hey everyone!

We have an amazing release in store for all of you! We have worked night and day perfecting this realm for release and we couldn't be happier with the results of the testing phase!

We have introduced an abundance of new content for all of you to try out upon release day! But until then, you are going to have to wait and read through the list of brand new content we have for Skyblock!

See you all on release day!
✤ WHAT'S RELEASING ON SATURDAY?
Payouts
This is one of the most requested changes to Skyblock, we are now adding payouts to this realm! The payouts will be as follows:

First Place: $75 (PayPal) and $75 (Giftcard)
Second Place: $75 (Giftcard)
Third Place: $50 (Giftcard)
Fourth Place: $20 (Giftcard)
Fifth Place: $10 (Giftcard
)
All Bugs Fixed
We've spent the last 2 weeks fixing bugs and perfecting the player experience on our Skyblock setup. We're proud to say we've pretty much-perfected game-play so far on Skyblock which will lead us to a fantastic release for all of you!
Banker NPC
This new type of NPC is similar to an investment account you may use in real life, basically, the more money you deposit into the banker, will increase the daily percent gain from the banker, gaining you more money over time the more wealthy you get on the realm!
Malls System
We have officially released the malls onto Skyblock! You can now purchase a specific size mall plot and put whatever you would like in it! You can also use these as player shops and so much more!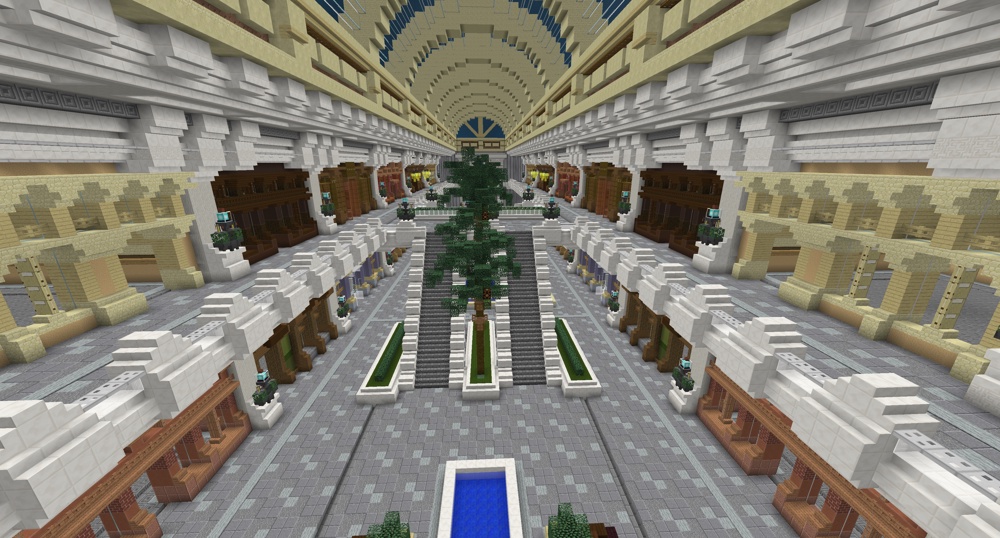 Dungeons
Dungeons will be a completely new feature, where you can fight mobs which will grant you rewards! As you fight your way though, mobs become harder to kill, but will reward you with better items! Loot tables for these dungeons can give you sell wands, minions, keys, money and much more!

​
Upgradeable Harvester Hoes
We have introduced Harvester Hoe Upgrades onto Skyblock, here is a rundown of what all the upgrades do once unlocked!



• Level 1




Drops one item per block break on all farming items.




• Level 2


Has a

25%

chance to drop 2 items per block break on all farm items.


• Level 3


Has a

50%

chance to drop 2 items per block break on all farm items.


• Level 4


Has a

75%

chance to drop 2 items per block break on all farm items.


• Level 5


Has a

100%

chance to drop 2 items per block break on all farm items.


• Level 6


Automatically activates auto-sell on the Harvester Hoe (Will sell items for their price on /shop + any active sell booster)

NOTE: If you lose your current Harvester Hoe and get a new one, you will have to upgrade the new Harvester Hoe from scratch.
Chat Notifications
We have introduced a chat notification system, where when running /notify or /chatnotify will ping you every time your specific name is said in chat. Additionally, it will also highlight your name in dark red for it to stand out so you can see it and who mentioned you!
Spawner Drops
We will now be having mobs drop two special items alongside their normal drops:

• Mob Coins
• Shards

Mob Coin drops will be nerfed severely from previous seasons, and rewards will be changed heavily, you can find the new upgraded rewards by typing /mc or /mobcoins in-game. However, shards will be based on rarity, which will be used to improve the quality of some items. There will be "tiers", to them which will increase the item the shard is applied to. They can be used to upgrade spawners by the numbered tier they are, for instance, a tier III shard will buff a spawners spawn rate by 3%!
Buffed Fishing & Daily Rewards
We have significantly buffed both of these rewards to accommodate for better gameplay on the realm! Check it out yourself on Friday!
Buffed Crate Rewards
Crate rewards have been significantly buffed due to heavy player feedback that they were not worth it for spending money on keys. On a side note, keys will now be virtual instead of hand-held, this is to prevent dupe glitches and to make crates more user friendly. Keys will be available for purchase at store.opcraft.net.


New Quests
With a lot of new items, we have revamped our quests so that you are rewarded more. With both daily and weekly quests, there will always be a way to make some more money!
Revamped Economy
With a lot of new features, we bring you a new economy! This season it is all about farming, and gaining money through farms! Make sure to check out the shop before release!
Minion Upgrades
Minions are now upgradable with money! You can now upgrade Range, EXP Bank Size, Farming Range and Spawner load range, making AFKing easier for you!
And lots more!
After listening to player feedback, we have made a large amount of quality of life changes and numerous bug fixes, which can all be found in the #change-logs channel in our discord! https://opcraft.net/discord
✤ CONCLUSION

We have been hard at work perfecting this realm for you, we hope you enjoy it as much as we have while testing it! Hopefully, this is the next step in bringing a new level of content and fun to our community. Stay tuned for more information on upcoming releases this week and next! You guys will love what we have in store for next month!

Join our Discord: https://opcraft.net/discord

Special thanks to everyone who helped in the testing stage of this realm, you know who you are!